Regular price
Sale price
$17.00 USD
Unit price
per
Sale
Sold out
 Tetramorium bicarinatum, making its way from Africa to many parts of the world including Canada, by getting transported in plant pots which usually end up in greenhouses which make ideal living conditions for these ants. They are able to become really successful in establishing inside greenhouses for a few reasons. 
They are polygynous (can have multiple queens in a colony)
The reproductives of this species can inbreed within the nest and make genetic copies of themselves.
Able to produce an outstanding amount of workers to overwhelm other insects that may also appear in a greenhouse.
That being said, these ants are legal exotics and do not need hibernation at all. They have a reddish/orange head and thorax followed by a glossy brown/black abdomen.
Tetramorium bicarinatum love to create giant trails and love to swarm their food, giving a really intruiging feeding response. 
These ants can be contained in any of the ytong nests we have for sale.
NOTE: DO NOT RELEASE IF UNABLE TO MAINTAIN, TO GET RID OF THEM PUT THEM IN BOILING WATER OR FREEZE THEM FOR 24 HOURS.
Care Guide:
Despite their hardy nature, it is still important to provide proper care for an optimal growing season. 

Food

Tetramorium bicarinatum will eat anything they get their hands on. From insects (beetle larvae, fruit flies, or roaches) to meat (ham, turkey bacon, or chicken) and carbohydrates like Honey, sugar water, or nectar. 

Temperature and Humidity:

The temperature should be kept from 19-29C and humidity between 60-90%, high humidity as this species loves damp environments.
Ant nest
Tetramorium bicarinatum will do great in any of our Esthetic Ant setups. When choosing the size of the nest, the colony should take up at least 40%+ of the nest capacity to insure the colony doesn't feel vulnerable and stressed. 
Share
View full details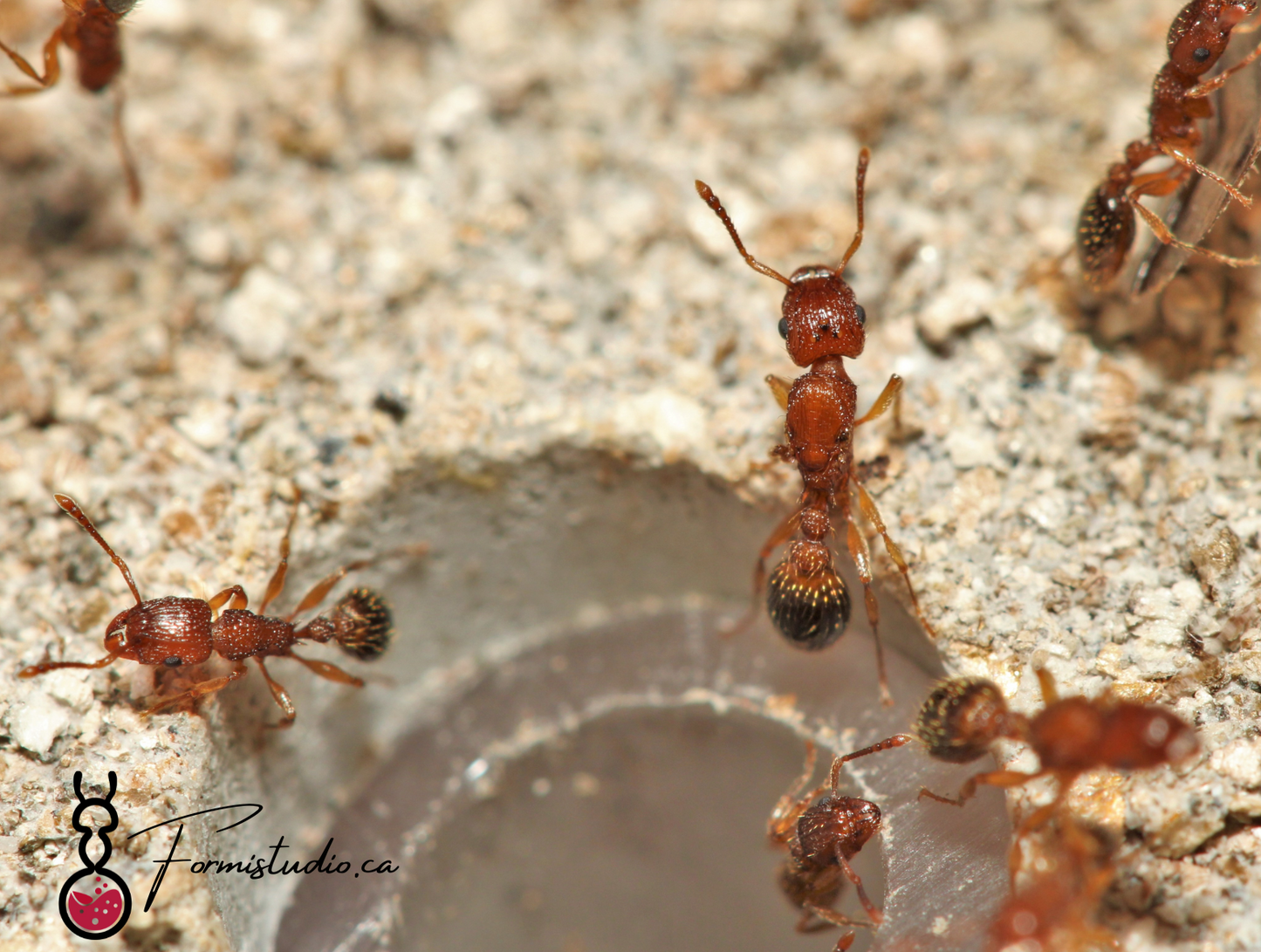 Collapsible content
Shipping Policy

For a more in depth explanation please visit our shipping policy page.

WE DO NOT SHIP LIVE PRODUCTS TO FOREIGN COUNTRIES. (IF AN ORDER IS MADE FROM ANY COUNTRY OTHER THAN CANADA YOU WILL BE REFUNDED 90% OF YOUR ORDER.)

The following includes some of the most asked questions.

When might my package arrive after ordering?

We usually ship from Monday to Wednesday and after it is shipped, depending on what shipping option you took, it should be in transit for that estimated time. If the package becomes lost in shipping or shipping takes longer than usual please contact us at formistudio.shop@gmail.com

What makes an order eligible for a refund/reshipment?

Please see our shipping policy.

Are shipments possible during cold winter days or hot summer days?

Sometimes weather conditions can be quite harsh. If the weather is too cold or too hot we will delay your order to the next suitable day.

Do you do curbside pickup?

Yes, we will notify you when your order is ready and we can schedule a time.